Browsing articles in "Fantasy Tips"
By Will Robinson
First, I hope everyone reading this (hi Mom!) had a great Thanksgiving break last week and enjoyed some great family time, food and, of course, football. I took last week off because 1) I went home for the break, but mostly because 2) my computer's motherboard died. That was fantastic.
I'm back now when you most need me: the final week of the regular season. For most leagues, this is the final week of play to secure a playoff spot. I know I'm barely hanging in there. Many of you are too.
Just keep fighting by placing football players of whom you have no real association with and root hard for them to score. That's what I'll be doing!
"Gun-to-my-Head-Sleeper-Matchups" of the Week
Matt Hasselbeck – The very aging and inconsistent Hasselbeck has a nice matchup against the free falling Bills. Sometimes you get the bad. Sometimes you get the bad. I think this week is more of the latter than the former. Continue reading »
RideWithSilver fantasy guru Will Robinson returns with fantasy tips for your Week 11 roster:
Before I cover the usual fantasy tips for the rest of Week 11, I feel like I have to put stance ahead for Tim Tebow.
All he does is win football games, as he's 4-1 this season when starting games. However, he can't hit receivers to save his life. He needs to improve as a passer. Plus, there are two important things to note:
Tebow was not the primary force for Denver's victory: The lights out defense was.
Though ultimately Tebow did lead the game-winning driver, quarterback wins are an awful stat. Writers will never do away with it as a stat, but can they? Please?
On to the rest of Week 11!
(Byes: Indianapolis, New Orleans, Pittsburgh and Houston)
"Gun-to-my-Head-Sleeper-Matchups" of the Week
Ryan Fitzpatrick – Oh, Fitz. After you received your pricey contract extension, you have not performed well. But Miami is next! Surely, you won't do crappy this week, right? Right??
Continue reading »
Enjoy a little Week 10 advice from RideWithSilver's fantasy guru Will Robinson:
Aw, Thursday night football, it's that time of year again. Thanksgiving is just a couple of weeks away; school is REALLY starting to suck; football season is really getting in shape; and of course, it's the time to set their fantasy lineups early.
And for that reason, I'm sorry for the delayed post. Though I probably would not have mentioned to play Denarius Moore or Michael Bush (oops), it caused some to make uninformed decisions; perhaps starting poor players (can anyone say Ryan Mathews? Frustrating.)
But here's what I can do, nothing special: sleepers/busts for the other 15 games in Week 10. Feel free to follow or ignore as always.
No more bye weeks, by the way. This is where e'erything gets real(er).
"Gun-to-my-Head-Sleeper-Matchups" of the Week
Mark Sanchez – Look, Mark Sanchez has not been consistent with judgments on or off the gridiron – I can only defend him so much. But the Patriots have taught us to start quarterbacks against their defense – they are straight up worse than people defending Joe Paterno. Well, maybe not. But that's a debate elsewhere. Moving on… Continue reading »
Will Robinson is back to enlighten you with fantasy tips for Week 9.
Here are some fantasy pointers for Week 9 of the NFL season. For most, the playoffs are a few weeks away, so this is do or die time for teams. Get it done.
(Byes: Detroit, Minnesota, Carolina and Jacksonville)
"Gun-to-my-Head-Sleeper-Matchups" of the Week
Matt Cassel – Cassel is facing the lowly bad f***ing pathetic Dolphins and their horrid pass defense. Matt Cassel against bad defenses this season (Indy) has been great. He will have a nice day.
Shonn Greene – Buffalo's fantasy run defense is not good as its stats have shown – it allowed a bunch of points to the Giants and the Raiders. Greene could have a good performance.
Mario Manningham – Pittsburgh exposed the Pats' bad secondary. Manningham, who has been quiet this season, will get great looks, particularly with Hakeem Nicks out. And, Eli Manning has been great this season fantasy-wise, so a double Manning plus Ham (think about it…) connection could be nice.
Continue reading »
Sorry for no Tuesday post. Busy week, but I offer some short Weekend Fantasy advice for Week Eight.
(This week's byes: Atlanta, Chicago, Green Bay, Oakland, New York Jets and Tampa Bay)
"Gun-to-my-Head-Sleeper-Matchups" of the Week
Matt Hasselbeck – The Titans were flat-out embarrassed last week by Houston, but it has a chance to come back in a nice away, hosting the hapless Indianapolis Colts. Hasselbeck's worst 2011 outing was last week, and there is a very low chance he plays as badly this week as he did last.
Darren Sproles – Sproles shouldn't be considered a sleeper at this point in the season. In fact, he is the 11th-highest scoring back this season. But with two other used backs on the roster, it scares owners from starting him sometimes. Sproles, against the porous St. Louis defense, will not disappoint this week, and will have his best performance of the season.
Continue reading »
The national nightmare will soon end. All season long, people pose the question "when" not if concerning when this man will play his first snap as a starter. Ladies and gentlemen, the Tim Tebow Era is under 48 hours away. Oh, and 12 other football games. But Tebow!!!
Here are my sleepers and busts of the week:
(This week's byes: Buffalo, Cincinnati, New England, NYG, Philadelphia, San Francisco)
"Gun-to-my-Head-Sleeper-Matchups" of the Week
Tebow – Timmy was not in the brief intro randomly. I really like him this week to put up good fantasy numbers against a porous Miami defense. Though he played one half against San Diego, Tebow scored 16.96 fantasy points, or good for the 12th-best quarterbacking performance of Week 5. It's uncertain if he helps Denver win, but a nice fantasy day is surely in store for him. (Note: Keep an eye on Demaryius Thomas. I think that next week he will be a nice player to pick up, should he, ya know, stay healthy for once in his brief NFL career). Continue reading »
RideWithSilver's resident fantasy guy Will Robinson returns to assess who scored and who didn't last week in fantasy football.
Here is a quick recap of last week's fantasy projections…
Mark Sanchez – Oh, Marky Mark, you kinda came through. Sanchez, in his best matchup of the year, posted a good but not great 18.54 points. He was solid, but not a 20-point performance I was thinking he had in him. Maybe I had high expectations, but Sanchez was a nice play last week.
Ryan Torain – Ryan Torain's (lack of) production was one of the big bombs of Week 6. Torain had 10 carries but managed a pathetic 22 yards. Torain frustrated owners who decided to play him. Thanks, Ryan. Continue reading »
Check out some good and bad matchups for your fantasy teams in Week Six of the fantasy season with Denver, San Diego, Tennessee, Kansas City, Arizona and Seattle on a bye.
"Gun-to-my-Head-Sleeper-Matchups" of the Week
Mark Sanchez – This one is a bit of a hunch. Sanchez is going against the horrific Miami team. I think he has potential to be ninth or tenth best fantasy quarterback this week. But if you have, say Cam Newton, Matthew Stafford or an equivalent, just laugh at the thought of playing Sanchez.
Ryan Torain – Mike Shanahan like the running back carousel. This week, with Tim Hightower questionable for Sunday action, Torain looks to be the beneficiary. Plus, Philly has not been able to stop ANY running back.
Anquan Boldin – Boldin has largely disappointed this season; he's only surpassed 10 points once in four games. Though Houston's pass defense is improved, Darius Heyward-Bey put up 99 yards and a score. Think Boldin. Continue reading »
 Will Robinson recounts the spoils of his Week 5 fantasy victories for RideWithSilver. 
Excuse me, let me have this.
…
There we go. That was me enjoying my first awesome week of predictions. Let's recap so I can further bask in the glory that was Week 5 fantasy guessing.
Eli – Despite throwing two interceptions in a terrible loss to Seattle, a poor quarterbacking performance was a still great fantasy day for Manning. His 24.3 fantasy point outing was the fifth-best fantasy quarterbacking performance of the week.
Whatchu talking 'bout Willis? – Though he didn't score a touchdown, Willis McGahee had 120+ yards and a two-point conversion. For no score recorded, 12th-best fantasy running back for Week 5 is a sweet deal. Continue reading »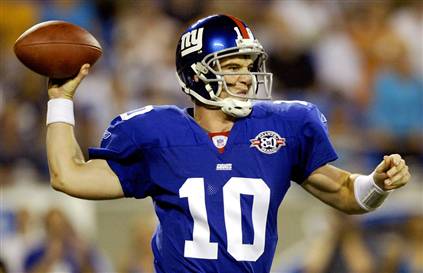 Several teams are on a bye week, but RideWithSilver fantasy guru Will Robinson never rests. He's back for your Week 5 picks.
Week Five brings the first bye weeks of the season, making fantasy selections undeniably slimmer. The fact that there are no Cowboys and Ravens (as well as Browns, Rams, Dolphins and Redskins) this week especially hurts, and you'll have to make due with some different and less attractive names.
"Gun-to-my-Head-Sleeper-Matchups" of the Week
Eli Manning – Everyone prefers the older Manning to the youngish Eli, but this Manning is healthy. Eli had a good Week 4 outing with 18.54 points against the Cardinals. The Seahawks at home is a much better matchup than Arizona on the road. Continue reading »